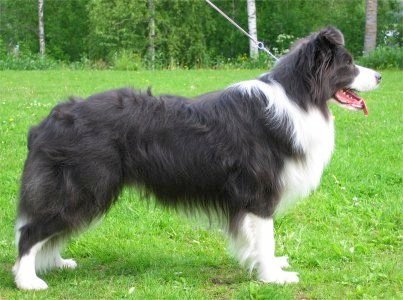 Fin Ch JK1 BH Pikkupaimenen Fair Play
" Jouko "
blue and white dog
DOB 11.9.2001
owners: Minna Räsänen & breeder

CEA clear at 6 weeks and 2 / 06
OptiGen DNA tested CEA/CH normal
hip score A
BVA 3:2
elbow score 0/0

Jouko passed behaviour test in April 2003.
Jouko competes in obedience, agility and tracking,
and has got good start in all of them.


Jouko spent some months in United Kingdom from September 2003 on till Crufts 2004.
He resided in Scotland with Heather Turner, Locheil Border Collies, and enjoed his stay very much.
Jouko gained his Stud Book number at his first show out and has done well at other shows as well.
He has won as well Post Graduate firsts and placements in PG and limit almost each time out.
His first litter was born on 12th December 2003 to Locheil Mustang Sally, 2 bitches and 5 dogs.
Jouko left behind three promising litters behind in Great Britain, and we are eagerly waiting to see
how these three litters will turn out. So far they have shown very much promise. We hope combining
these two completely different lines, almost all britis and all Australian but both with same type will
end up what we are looking for. Time will tell..

Jouko is pictured above standing at 2 years and head shot at 2,5 years.