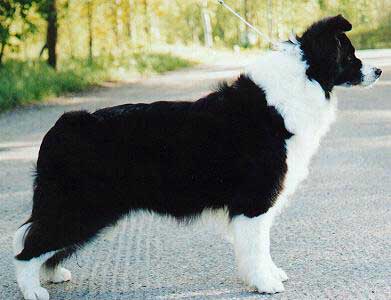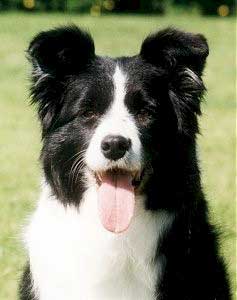 TK2 Int & Aust & Fin & Dk & Est Ch FinW-93 WW-98
Borderfame Sheer Delight "CDX"
" Cola "
black & white bitch
DOB 14.5.1989 - 9.12.2004
breeder: Helena Fitzgerald, Australia
owner: Sari Solanti
eyes clear
hip score B2
Cola trials in obedience class 3.
Apart of being a top show dog herself,
she has produced Best in Show winning progeny as well as individuals
as in progeny groups and breeders groups.
Not only does she forward her beauty to her descendants,
all her 15 puppies are officially hip scored dysplasia free
and all of them have been officially eye tested CEA clear
as we as free of other inherited eye conditions.
All of her puppies have also passed the official character test,
and 14 of them competes in obedience, agility, tracking and/or searching.
more pictures of Cola here
and more information about her here

Pictured here at 10 years of age from the side and at 9 years at the head shot.