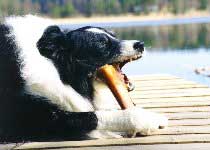 Ace left us in August 2000, at 15,5 years of age. He
introduced me and so many other Scandinavians to this
incredibly intelligent breed, emerging the gentleness,
willingness to please and true beauty of perfectly balanced
dog moving with minimum lift of feet, with ease and grace
that allowes this breed to work all day long, day after day,
never showing signs of tiredness. Ace left a huge hole
in my heart and in the entire Border Collie world.